Living Christ centered lives so we may love all, serve our community, and share the word.
What we believe
Foundation
We believe and confess the Triune God—Father, Son and Holy Spirit. We proclaim in word and deed Jesus as Lord and Savior of all and we trust the Gospel of Jesus Christ to be the power of God for the salvation of all who believe.
God's Word
We believe that the Bible (Old and New Testament) is the source and norm of our teaching and living. It is God's authoritative word for us and it is life giving. We also believe that it is the story of God with and to His people throughout all of history.
The Church
We believe that the church is the body of Christ in our world. That means we are each a part of the body but no one on their own is the whole. We are all gifted in different ways to create a fuller picture of Jesus to the world. We also believe in the priesthood of all believers and that each of us is called into the work of ministry and witness.
Our Tradition
We are proudly a member of the Evangelical Lutheran Church of America (ELCA). Our beliefs and practices fall in line with the ELCA. We are Lutheran in tradition and boldly proclaim God's grace and love for all.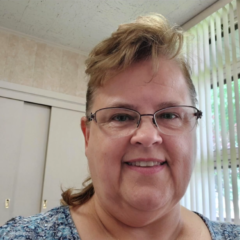 Sue Dirks
Parish Secretary
(815) 625-3069